Criminal Defense Attorney in Ypsilanti, Michigan
Handling Misdemeanors and Felonies in Michigan
At The Law Offices of John R. Bailey, we offer you a clear and accurate appraisal of your criminal case, so that you have realistic expectations and an understanding of the proceedings.
---
Michigan Traffic Violations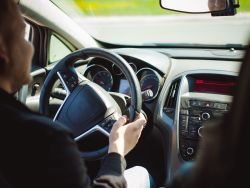 Our firm takes traffic violations seriously. Whenever you are pulled over for any reason, you should consult an experienced Michigan criminal defense attorney:
Reckless driving

Driving with a suspended license

Driving without a license

Excessive speeding
A conviction for a traffic offense may result in the restriction of your right to drive. Our experienced criminal defense lawyer represents you in your traffic case and works to keep your license clean.
DUI Charges
Driving under the influence or while impaired-often known as DUI or DWI-is called operating under the influence of drugs or alcohol in Michigan. From the moment you turn the key in the ignition, you can be charged with the following:
Operating while visibly impaired (OWVI) by alcohol, drugs, or prescriptions

Operating while intoxicated (OWI) with a bodily alcohol content (BAC) of .08 or more

Operating with any presence of a Schedule 1 drug or cocaine

Underage (under 21) operating with any bodily alcohol content (BAC)
Michigan law imposes a mandatory six-month driver's license suspension for a first conviction. A driver may be eligible for a restricted license after serving 30 days of the suspension. Our DUI attorney helps you obtain your temporary license and represents you in the defense of your criminal charges.
---
Domestic Disputes
Our law firm understands that you may find yourself up against criminal charges during times of personal and family stress:
Failure to follow a personal protection order

Criminal trespass

Domestic violence

Assault and battery
We recognize that a domestic dispute has a tremendous impact on you and your family. John R. Bailey fights for a positive outcome in your domestic case so you can move on with your life.
Engage an Experienced Criminal Defense Attorney in Ypsilanti or Kalamazoo, MI
To learn more about the legal services we provide, contact our experienced Criminal Defense Attorneys in Ann Arbor, Ypsilanti at The Law Offices of John R. Bailey. We provide our legal services across Ypsilanti, Ann Arbor and throughout the Michigan area. Contact us for a free consultation.